Today is a special day.
First of all, it is Pre-Friday (always a plus) and today is the fun link-up with TWO of my favorite bloggers:
Brittany
and
Rachel
.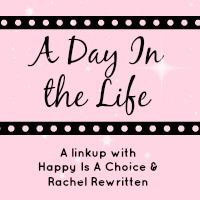 So, what is a normal day for me?
My typical day starts off at 7:10 am.
I wake up and am out the door by 7:34 to head to work.
Yes, I get ready really fast.
I get to work and begin my day.
Reading emails, eating breakfast and doing whatever is needed in the office that day.
My desk - most days, there is not cupcakes.
By the time lunch rolls around and I need to get out of the office,
I go get a half and half tea from McAlisters (once a week).
After work is over, I either make my way home, #TequilaTuesday with my girls at our local mexican restaurant, get a manicure/pedicure, go over to a friend's house and have dinner with her and her husband.
It changes every week but it semi stays the same.
That is my life.
Sounds wonderfully boring, doesn't it?
Make sure you link up with Brittany & Rachel - I can't wait to read about your day!