I am not exactly sure if this letter link-up is supposed to mean like actually dating and what not, but I'm gonna go ahead and tell you mine has nothing to do with going on dates. Because I haven't been asked on one in quite some time. Because I don't have a boyfriend, man, bae, significant other, boo, etc. Because nobody of the male population likes me.
Okay, that got out of hand fast. Let's start over. I am going to write a letter about actual dates on a calendar. ​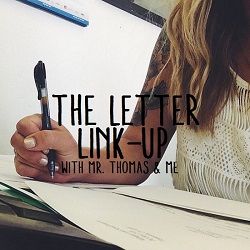 The other night we were standing in your kitchen and you asked me one specific question: Did you take college classes when you were still in high school? I answered you with a rather long response to your question:
I don't think so, I wasn't trying to get more advanced. College will come, don't rush your high school years away. Like, it is almost my ten year reunion. Please don't rush your high school years away. We left our conversation at that; but A, I haven't finished thinking about what I told you.
May 20, 2005. That is a real date, the date I walked across the graduation stage first before everyone else and shook the principal's hand. I received the book my diploma would go in and a Congratulations from everyone on that wobbly, makeshift stage.
December 10, 2007. This is a real date, the date I walked across the graduation stage at Hinds Community College and shook the President of the college's hand. A congratulations was also in order.
May 23, 2010. This is a real date, the day I didn't walk across the University of Southern Miss's stage. I chose to spend a weekend with one of my closest friends and I don't regret one second of missing that 100-degree-outside on the football field-wearing black robes graduation.
I want to tell you that there are going to be so many dates, non love ones, that are going to remind you of things. I hope it reminds you that you didn't rush through life to get some degree. I hope it reminds you to slow down a bit and cherish what you have right now. Remember that whatever season of life you are in, that you will never get that moment back. (I should take my own advice on this one).
And I'm gonna let you know something else, high school soccer player, life does not get better than when you are still in school (high school or college) and you are hanging out with your friends, having hardly any responsibilities, and no actual bills.
Savor the dates that you make A's on all your tests, the late nights you spend with friends laughing/watching scary movies, and savor the dates that you accomplish something, anything, etc.
Please don't rush through high school or college.
Please don't rush through getting a handshake from a principal or a college president.
Please don't rush your life away.