​(The jist of this month's link-up is to write a letter about growing old. I'm pretty great at those and if you are too, join the link up. Click here to read the deets on Amber's page)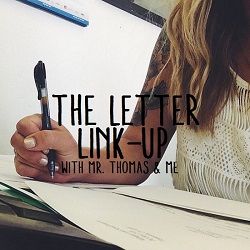 Yesterday you turned 27. I don't know if that means we are getting old or just getting more experienced at life. I'm gonna go ahead and say it's a bit of both; however, if there is only one thing to take from this whole letter, I hope it is this: I want our friendship to grow old together.
I remember the first time I saw your birthday cake. It was 2008. The year you turned 21.
We spent time together over at your apartment in building 100. We both lived at those Eagle's Trail apartments; just not in the same building yet. I remember walking into your bedroom and you had all your teaching stuff everywhere. You also had a piece of paper with all your passwords on it to everything online. I thought "that's a really good idea as long as nobody else gets a hold of it." And I still write my passwords down to this day, by the way.
I will never ever forget the New Year's Eve we rented a suite out of one (of the 2) beach condos in 2009 down on the Gulf Coast. Katrina had taken pretty much everything off that beach road so re-building took it's time, but the condo was absolutely beautiful. Before arriving at the condo, we all went and got our hair done. Curls for everybody. When we arrived, we opened a vegetable tray that smelled like feet, so we immediately threw that outside.
We danced on the balcony, took two Facebook albums worth of pictures, drank champagne at midnight, wore silly Happy New Year headbands, and laughed until we cried (a few times). I wore heels only to get my photograph in them and then I changed back into my Uggs. We attempted to light fireworks across the road on the beach and the wind let us know that was never going to happen. That was the first time
ringing in the new year with each other, but it definitely was not our last.
I'll never forget the year the Saints won the Superbowl as I sat on your sister's couch eating chips and salsa. We all sat on the edge of our seats while the game went into overtime. When the Saints won, we all jumped up screaming our heads off. It was a great night with my three favorite f's: friends, football and food.
I remember the New Year's Eve that was spent most recently on that same couch - you letting me know that someone's actions were not normal that night and that maybe he wasn't the one for me.
Birthdays have come and gone 6 times since that first night eating cake together and we have grown so much since then. You have gotten married to a wonderful man, had two sweet babies and bought a house. I, on the other hand, haven't reached any of those life events and yet I feel so accomplished knowing that you are there to support the events I do have.
I know that no matter what happens in this life that you are always going to be there.
You have sat and listened to all my awkward first dates that turned into nothing, taught me how to make very tasty asparagus in the oven, and how to be more creative when it comes to throwing parties. I owe so much of my USM years to you and all the memories we have made. I couldn't be more blessed to call you a best friend.
I consider the defining moment in our friendship to be that one afternoon pulling into our apartment at Eagle's Trail singing/bonding over "Stacy's Mom." But that wasn't the only musical number we loved. I went to a concert with you that made me fall in love with a new (to me) band: Better than Ezra. That night at the Hard Rock Casino was one for the books.
Sometimes, I pride myself on thinking that I'll be my own person and that I will have lived a completely different life than my parents. For example, my mom has a best friend, named Jan, who she has been best friends with since her 20's. I now know that my mom and I's lives are not that different. I met you when we were both 20, at least for that month and a half between our birthdays, and we have been friends since then.
I read somewhere that if your friendship has lasted 7 years, then it will last a lifetime. My mom has her lifetime friendship with Jan to grow old with and I can't thank God enough that I have your friendship to do the same.
Happy 27th birthday, Anna.
Love your lifetime friend,