I don't find these letters hard to link up with
Amber
each month;
I find them easy once I figure out exactly who I am writing to.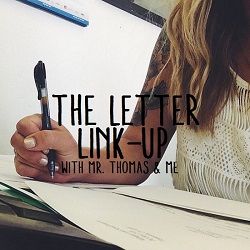 Well, I noticed through this particular link-up that almost everyone is writing to their significant other, aka their husband. Seeing as I'm always consistently single, those letters just don't form for me. But you know what, it doesn't have to.


A wise friend once said: Life doesn't begin once you get married. And even though this weekend was spent celebrating a wonderful couple that married on Saturday, it was still a reminder that even though my #bestdayever may never get here, I can live in the moment we have now.
There are plenty of people we say I love you too. This letter isn't to an actual person; just go with me on this one. I am saying I love yo
u
to my weekend, because honestly it was the best time ever.
-----------------------------------
You were pretty wonderful. I can't believe how much I got accomplished and how relaxed I feel on this particular Monday. I'm not gonna lie, there was some anxiety going into Saturday with you. I didn't know exactly how the reception would play out; especially knowing someone I used to kiss and care for would be there. But alas, he ignored me and I ignored him.
I am so thankful that you, dear weekend, allowed me to pick up my best friend and that I got to have a constant laughing, smiling and goofing off road trip with Joseph. He made the trip even better than I could have imagined. I am forever thankful for that guy I have known all my life, but became best friends with,in high school.
I cannot say enough how much you showed out, Mister Weekend. You allowed me to get some toddler hugs with Aubrie Kate and Bentley. You allowed me to hear a 3 year old scream my name down the hall and then run out all shy-like and not say a word. You allowed me to eat a California Turkey sandwich and drink the most delicious Dr. Pepper at lunch on Sunday.
As I sat around the table in that Chili's restaurant and watched the toddlers color and eat, I realized that it isn't about the likes or mentions on social media. It isn't about who you are in contact with online. It's about living in that moment with all the phones put away; spending time with the ones that matter.



I didn't check Instagram for over a day and a half and even when I was "catching up" on Sunday night, it still just didn't seem as important. Thank you, dear weekend, for showing me what it's like to just get back to the basics: friendship, family, funny babies, and french fries.
So Weekend, what I am basically trying to say is pretty simple:
I love you.