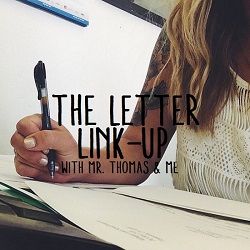 This letter is part of The Letter Link-Up. They are written to remember mundane moments that would otherwise slip away, to hold tight to him, and to remember how life looks right now at this very moment with the chance to shed light on your heart.
_______________________________________________________
I met you last Friday night for the first time. The next morning you celebrated one month in this world. I cannot tell you how happy I am that I got to hold you, feed you, and watch your mom change your newborn diapers. You are probably the smallest baby I've ever held, but guess what? That doesn't make you any less special.
On Saturday, we went over to your grandma's house and I sat on the deck by the pool with you on my chest. While everyone else was laying out hoping for more sunshine, I was laying under the shade hoping the snuggles wouldn't end. You are the sweetest little thing. Your mom is doing a wonderful job raising you and I can't wait to see you again.
When you get older Stella, you may think that Aunt Cassie is crazy for writing you a letter at one month old. And that's okay, if you do. I just want you to know you can always count on me.
Whether you are falling asleep in my arms or on my chest, you always have a place in my heart; a place of peace.
Love always,
Aunt Cassie