Dear Self,
"Your smile can light up a room" and "You have the best smile" is something you have heard people say for years now. It seems that you should acknowledge your smile as your greatest strength, but for some reason, you don't. You know what you consider to be your greatest strength? The ability to make other's smile.
It brings you the most joy knowing that you can make someone else's day. Picking out the perfect card is one of your specialties; the time it takes to find it may be a while, but it is always worth it. That's why you make the random trips to the card aisle at Target on a Tuesday night. That's why you make sure to send packages from the post office two days before someone else's big event because you know that's how long USPS takes. That's why you send out the random text messages to friends when they least expect it.
But you aren't very self confident these days and I think I know why. You are overweight and feel it with every tug on your shirt or roll above your jeans. You see pimples on your face so you take a half selfie (as shown above in the middle picture). You go to work and think about how you could be anywhere else and your smile turns upside down.
Amber's tweet
from the other day is probably the best advice I could give you:
"If encouragement's your game, you've got to get over the awkwardness and rock it."
Instead of picking out all your flaws on a daily basis, remind yourself every morning that God woke you up because you have so many things left to do. Your smile could change the world, if you let it. You already cheer on the rest of your team (family and friends). Don't forget to include yourself.
Embrace the imperfections and the awkwardness of yourself; your greatest strength will be that much stronger.
_____________________________________________________________________
This letter is part of
The Letter Link-Up
. They are written to remember mundane moments that would otherwise slip away, to hold tight to him, and to remember how life looks right now at this very moment with the chance to shed light on your heart.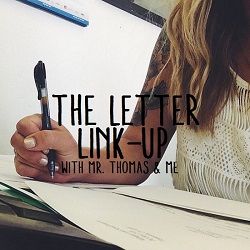 While my letters are documenting moments within our marriage before children for our children, you are allowed to write your letter to anyone, on anything with the prompt being simply a loose and suggestive starting point.